Servo Amplifiers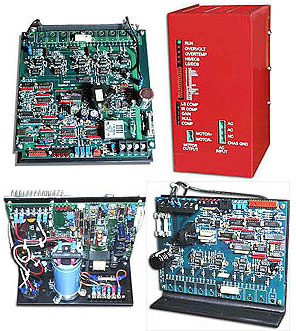 IPC specializes in single axis servo controls for applications such as treadmills, electric doors, medical diagnostics equipment, industrial process and many other demanding OEM applications. We can configure amplifiers to run from 24 VDC to 300 VAC, universal inputs, open or closed-loop operation, encoder or tachometer feedback, current or velocity regulation, internal or external power supplies - you name it! Using "building block" Engineering core-designs, we can quickly configure an amplifier that ideally suits your next standard or custom application. We even offer designs up to 40 DC amps output in a relatively small single-axis package.
Using Pulse Width modulated (PWM) technology, these amplifiers are highly efficient to run cool while delivering smooth and powerful performance in a variety of applications.
IPC can specially configure an amplifier to your needs where you can obtain custom configurations and performance at "off the shelf" prices. Contact IPC today with your next special application!
---
Downloads
Applications
Treadmills
Electric Doors
Medical Diagnostics
Centrifuges
Industrial Process
Many Other Demanding Applications
Contact us for more information.