D160- 230/460VAC Three-Phase SCR Power Controller 30A
Item # 910-5252-004
Downloads | Specifications | Design Features | Operating Features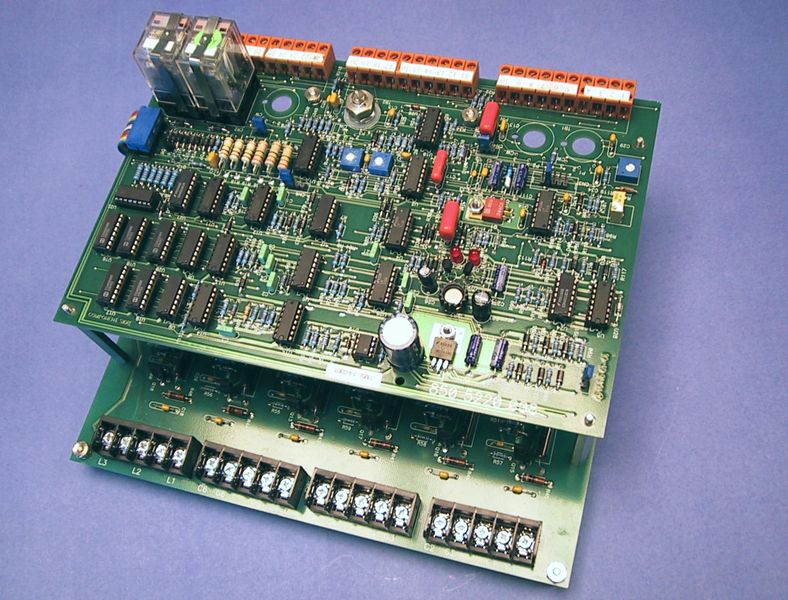 The IPC D160 is a three-phase SCR power controller which offers variable-voltage phase-angle control for a variety of applications. Fully-isolated all-digital firing is immune to AC line distortions, RF and noise. These rugged controllers feature many standard features such as soft-start, voltage or current control input, AC or DC output, open or closed-loop operation and a variety of AC or DC feedback options. 4-20 ma current input with offset and bias adjustments. Adjustable current limit. 30 A continuous output rating. (Higher currents or other voltages on request) Also available as a trigger-only package (uses customer supplied power section).
---
Downloads
Specifications
Input Voltage (AC)
230 V
380 V
480 V
575 V
Phase
Three
Continuous DC Rating
30 A
Full Load Ambient Temperature
0 to 45 Deg. C
Response
16 MSC 0 to 220 Deg. conduction-damping specified for closed-loop operation adjustable.
Closed Loop Regulation
+/-0.5% from +/-10 volt DC feedback signal. Drift less than 0.1%
Current Limit
Adjustable 50 to 200%. Overcurrent trip set at 500%. Fixed or Adjustable.
Reference In
0 to +/-10 volts DC into 10K ohms input impedence. Regulated 10V 1mA output available for external 10K potentiometer.
Feedback Input
0 to 10 volts DC into 10K ohms input impedence. Input scaling potentiometer with adjustable range from 10V to 100V input.
Gate Outputs
Six isolated outputs to hard-fire up to 6 SCRs. Initial pulse rises to 1 amp in less than 500 nanoseconds with a back porch of 150 ma for the remainder of the cycle. 2500V rms isolation.
Output Ratings
15A, 30A, AC or DC Bridge.
Design Features
Input

240/480V +/- 10% or 380/480/575
3-phase 50/60 Hz

Protection

DV-DT network
Voltage transient network
Overcurrent trip
Current limit

Isolation

2500V rms output to output and output to control potential; control circuit isolated by 2500V rms from incoming power line.

Options

Current input -Option Cl 0-20 ma with offset, gain and bias
Offset relay-Option-CR2-Trip Relay- Option-CR1-Nonstandard reference input available.
Operating Features
Precision digital design
100% integrated circuits for better regulation and control
Compact single control board, including all options
Isolated firing board for all high voltage
Regulated reference output +10.0V for 10K external potentiometer
Reference input 0 to 10V
Open or closed loop regulation 0.5% better
Feedback input for closed loop regulation
Current limit and overcurrent trip circuit
Hard SCR firing 1 amp PK with 150 ma back porch
Full range 0 through 220 Deg. for 100% output
Loss of phase protection
Contact us for more information.